X-Ray Camo camouflage
Beuchat's exclusive X-Ray Camo camouflage is based on the Beuchat Trigocamo photographic camouflage, specially redesigned for an ultra-smooth suit.
Natural monochrome colours melt into the underwater background.
X-Ray Camo camouflage is used on different parts of the Espadon Elite in order to break up the silhouette of the suit and make the diver even harder to detect. Camouflage is positioned primarily on forward-facing surfaces. 
Optimum smoothness
Smooth outer coating improves movement through the water for slicker, more efficient diving.
Reinforced stress pad on the top specifically designed not to cause turbulence.
Beuchat, inventor of the isothermal wetsuit
Georges Beuchat creator of the company was an emblematic pioneer of underwater activities. He naturally tried to protect himself from the cold during diving. This is the way that after several experimentations, led in the creeks of Marseille, he invents in 1953 the isothermal wetsuit.
This fundamental invention has played a key role in the development of underwater activities. And more than sixty years later, its bases remain valid although materials and methods evolved.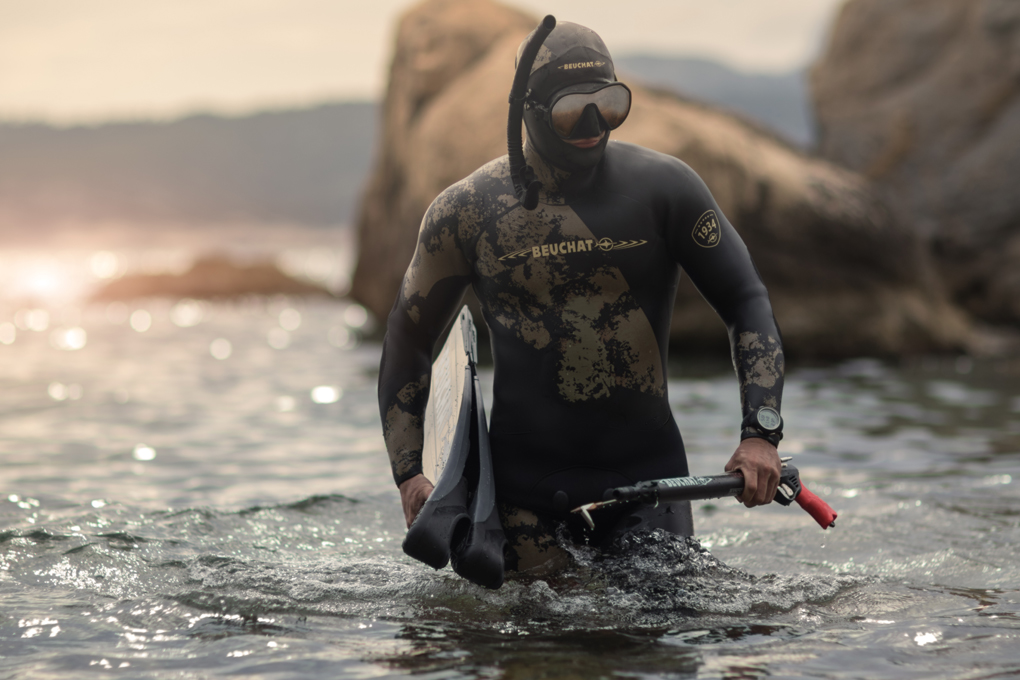 Type
Two-piece suit for intensive free diving and spearfishing
Top with hood (5, 7 or 8mm)
5 or 7mm waist-cut pants
Super-supple Elaskin X10 neoprene for improved comfort and greater freedom of movement
Open cell neoprene interior for outstanding thermal protection

Cut
High quality pre-formed anatomical cut for maximum comfort
Special anatomical cut at the back to prevent the formation of water pockets on the back or between the shoulders
Seamless stretch panels at articulations to reduce friction (shoulders, knees and elbows).
Pre-formed to follow the curvature of the lower back and crotch for a snugger fitting suit
Pre-formed, crotch-piece ergonomically designed to avoid discomfort between the legs, with double clip closure

Resistance
Jersey crotch-panel on the top and between the legs of the pants designed to prevent wear resulting from friction between the thighs while swimming

Hood with Anti-Squeeze System,
The Anti-Squeeze System mitigates the suction effect in the ears and simplifies pressure equalisation during dives.

Optimum smoothness
Smooth outer coating improves movement through the water for slicker, more efficient diving
Reinforced stress pad on the top specifically designed not to cause turbulence

Thermal protection
The Espadon Elite offers a high degree of thermal protection
Combines the qualities of an open cell interior with a smooth outer skin
Open cell interior procures maximum warmth
Smooth outer skin offers excellent protection from the wind and dries fast, especially useful on boats and at the end of the dive session

X-Ray Camo camouflage
Beuchat's exclusive X-Ray Camo camouflage is based on the Beuchat Trigocamo photographic camouflage, specially redesigned for an ultra-smooth suit
Natural monochrome colours melt into the underwater background
X-Ray Camo camouflage is used on different parts of the Espadon Elite in order to break up the silhouette of the suit and make the diver even harder to detect. Camouflage is positioned primarily on forward-facing surfaces.

Reinforcements:
Protective Supratex 2 kneepads combining flexibility and resistance to abrasion
Top incorporates a reinforced stress pad on the bust specially designed to prevent turbulence and provide improved comfort and grip when loading long, powerful spearguns (to prevent the butt slipping).

Seals:
Thinner face seals (-1 mm) 4 mm on the 5 mm version and 6 mm on the 7 mm version.
360° single-piece face seal for improved comfort, seal and sustainability, with no seam at mouth level

Edging & finishes:
Neoprene panels bonded edge-to-edge with external overlock.
Seals with high quality finishes, edged with smooth neoprene for better water tightness, improved appearance and more resilience during dressing and undressing
Lower edge of the top reinforced for better resilience during dressing and undressing