Dive Suit Cashback Operation 
(ODR-BEUCHAT-2018)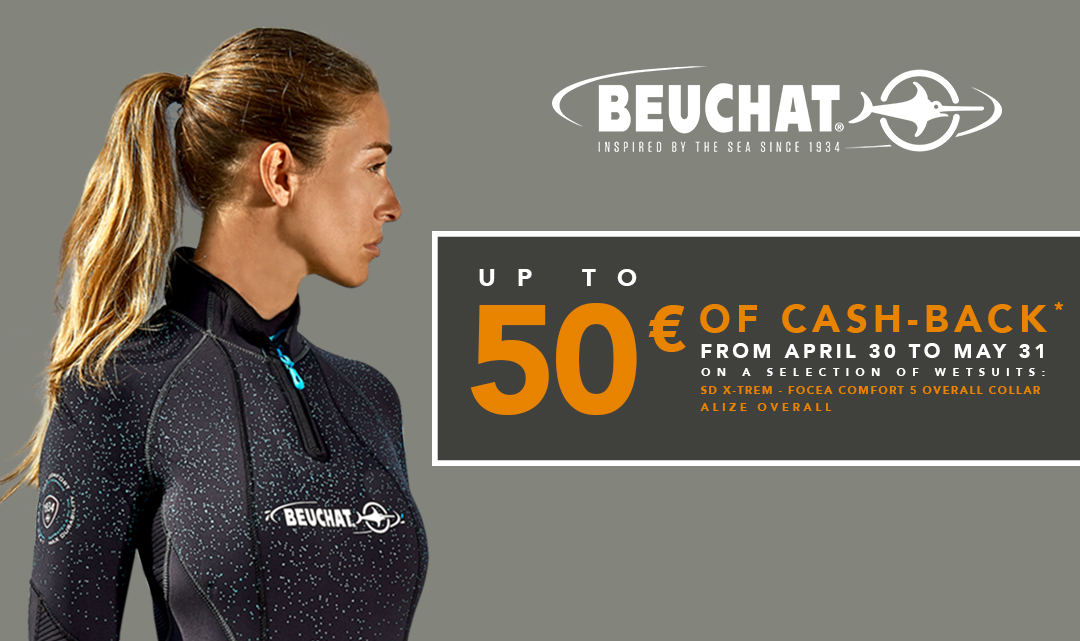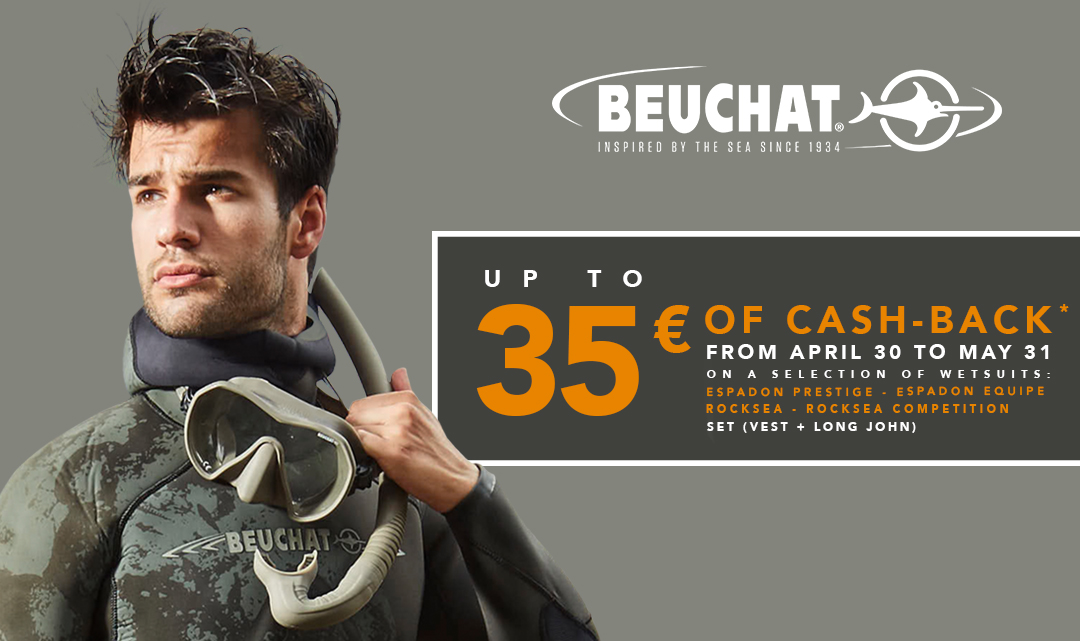 Up to 50 euros cashback 
(1)
Up to 50 euros cashback(1) for the purchase of a scuba diving suit and up to 35 euros cashback(1) for the purchase of a spearfishing or free-diving suit in accordance with the conditions defined below.
Purchase period from 30 April to 31 May 2018
Conditions 
of the offer
a) Products eligible for the offer

Scuba diving suits:
Semi-Dry X-Trem 6.5 mm (man or woman)
Focea Comfort 5 one-piece with collar, 5 or 7 mm (man or woman)
Alize one-piece 3 mm (man or woman)
Spearfishing and free diving suits:
Espadon Prestige (top + pants set, 5 or 7 mm)
Espadon Equipe (top + pants set, 5 or 7 mm)
Rocksea Competition (top + pants set, 5 or 7 mm)
Rocksea (top + pants set, 5 or 7 mm)
b) The offer is valid for the purchase of any of the above-mentioned suits completed between 30 April and 31 May 2018.
c) The offer is valid for purchases made only from official Beuchat dealers in France (and Monaco), Spain, Italy, Germany, Belgium, The Netherlands or Denmark.
How to take advantage of the offer

?

1) Buy any of the suits concerned from an official Beuchat dealer in metropolitan France, Monaco, Spain, Italy, Germany, Belgium, Netherlands or Denmark (find a dealer: https://www.beuchat-diving.com/storelocator)

2) Complete the online application form on the Beuchat website and confirm your participation, then print out the form and attach it to your application package

3) Assemble your application package.

Your application package must comprise the following documents (be sure to make copies before sending in your application):

A/ Your printed application form 

B/ Your original proof of purchase (invoice, receipt) showing clearly (circled) the date of purchase, the price and the reference(s) of the product(s) purchased.

IMPORTANT: Keep a copy of your proof of purchase as you will be asked to produce it should you need to invoke the guarantee.

C/ Your bank references, including your IBAN and BIC numbers (required for the transfer of your cashback payment).

The IBAN number starts with FR or MC followed by 25 characters. The BIC code serves to identify the banking establishment and comprises 8 to 11 characters. 

4) Send in the package.

Send your application package, preferably by recorded delivery post (keep your post office receipt), before 29 June 2018 (date as per postmark) in a correctly stamped envelope, to the following address: 

 


BEUCHAT INTERNATIONAL – ODR 2018
34, av. Boisbaudran
CS 60270
13344 Marseille cedex 15 France

 

 
APPLICATION FORM
What is cashback

?

Cashback is a simple, free-of-charge system of deferred reimbursement.  It enables you to recover a sum of money on the purchase price of a selected Beuchat suit during a defined period. The cashback sum is based on the price of the suit including VAT, excluding any special in-store promotions.

 
(1)

 

Cashback amounts 
Scuba diving suits:
Semi-Dry X-Trem 6.5 mm (man or woman): €50 cashback
Focea Comfort 5 one-piece with collar, 5 or 7 mm (man or woman): €35 cashback
Alize one-piece 3 mm (man or woman): €15 cashback
Spearfishing and free diving suits:
Espadon Prestige (top + pants set, 5 or 7 mm): €35 cashback
Espadon Equipe (top + pants set, 5 or 7 mm): €25 cashback
Rocksea Competition (top + pants set, 5 or 7 mm): €25 cashback
Rocksea (top + pants set, 5 or 7 mm): €25 cashback