Beuchat, inventor of the speargun
Georges Beuchat creator of the company was an emblematic pioneer of underwater activities. This is the way that after several experimentations, led in the creeks of Marseille, he invents in 1947 the speargun.
This fundamental invention has played a key role in the development of underwater activities. And more than sixty years later, its bases remain valid although materials and methods evolved.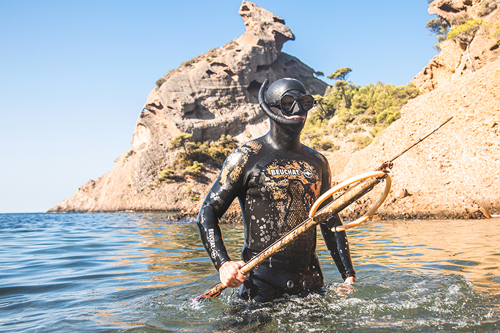 TRIGOCAMO WIDE : Barrel with the exclusive Trigocamo Wide camo. Brown and beige Hero pistol grip to complete the camouflage of the speargun.
Inverted mechanism : Stainless steel mechanism with inverted position that brings improved load power. Mechanism with short trigger travel for improved accuracy.
High range Hero pistol grip with reel bracket and reversible right/left stainless steel line release
Aluminum barrel with Integrated Rail Guide for increased accuracy
Open muzzle Hero
High resistance 6,5mm diameter shaft with 3 welded fins
16mm diameter fast-loading MEGATONNE power bands
1.6mm black mono-filament
Offshore shock-absorber
100% made in France (Marseille).