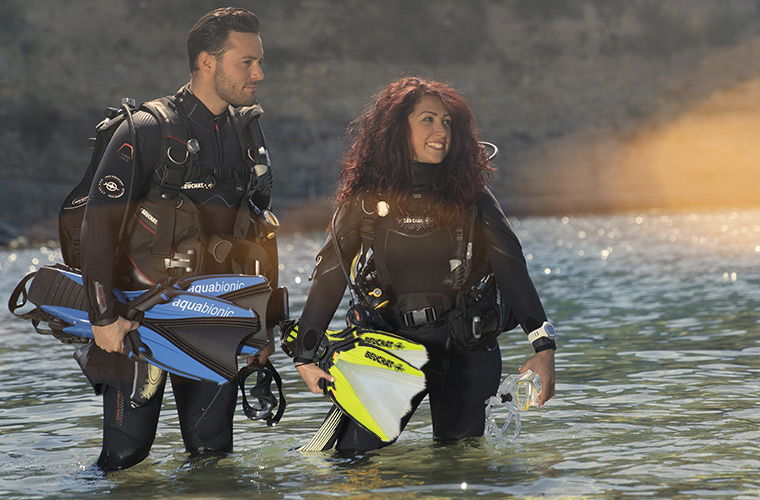 BEUCHAT AQUABIONIC, THE WORLD'S MOST ADVANCED FIN
With the Aquabionic fins Beuchat propose the world's most advanced fins using powered by WARP technology inspired by underwater animals.
Bio-design : Aquabionic
The design of the Beuchat Aquabionic fin uses bionics as approach to innovation, harnessing nature's time-tested patterns and strategies found in various marine mammals in order to produce the most comfortable and powerful fin ever developed. The result is the world's first water adapting responsive propulsion system for fins, patented WARP technology.
Exclusive and patented WARP Technology
With its warp technology Beuchat Aquabionic has the world's first water adapting responsive propulsion (WARP) system.
Amplifying a diver's kick impulse, the forced adaptive dynamic cupping and spreading of the blade actuators and central membrane dynamically modulates the surface area of the fin, capturing and accelerating more undisturbed water for the most efficient propulsion. WARP technology allows the fin to be precise and manoeuvrable at low thrusts and powerful and responsive when more propulsion is needed.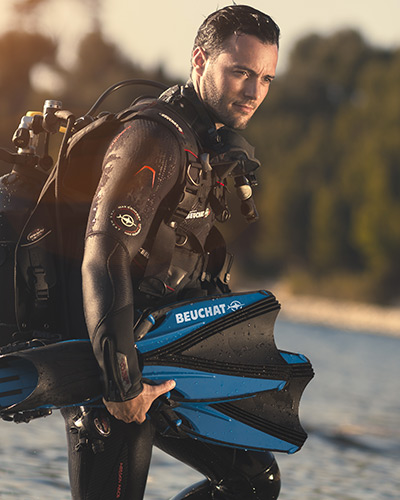 A perfect versatility for all technical kick styles and all levels of divers
The design features low profile side rails, eliminating side spill by aligning water flow into a mono-directional thrust. This makes the Beuchat Aquabionic not only an excellent fin for straight-line flutter kicks, but also a top performer for all technical kick styles (frog, scull,...) and for all levels of divers.
Efficient and comfort at their best levels
Comprehensive testing by elite combat divers proved that WARP technology used with reduced kick amplitudes generates increased speed with less energy expended and air consumed.
The result is a fin that is comfortable enough to wear all day, efficient enough to propel a fully dressed diver with minimal demands on air and energy, yet instantly powerful enough to allow the diver to negotiate the toughest currents and conditions.