As its name indicates, the Buoyancy Compensator serves to adjust the buoyancy of the diver. When inflated at the surface, Buoyancy Compensator act like buoys to keep you above water effortlessly; more or less filled with air depending on your depth underwater, they help you move easily in weightless conditions and control your ascent. In addition, the stab holds and supports the diving bottle(s) fixed to the diver's back.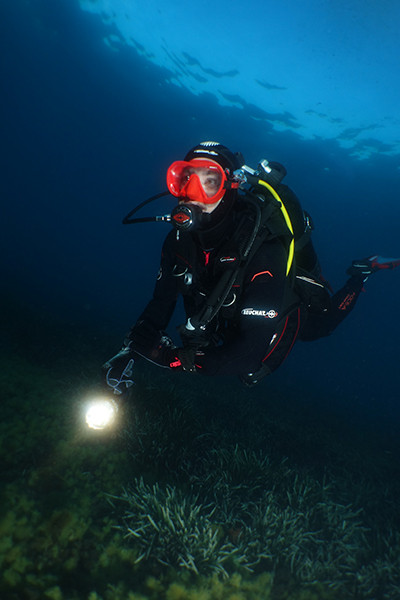 The Buoyancy Compensator is connected to the bottle by a pipe, the Direct System, connected to the first stage of the regulator; by activating the inflator and the purge the stab can be inflated and deflated as required. The stab is also fitted with top and bottom purge valves to enable fast deflation.
Beuchat Masterlift stabs meet the requirements of different categories of diver: the Masterlift First, and its Junior version, designed for 8-12 year-olds, are adjustable vests ideal for diving schools. Practical and easy to use, the Masterlift Adventure, offering unbeatable value for money and is perfect for occasional divers. More experienced divers will opt for the Masterlift X-Air Light 3 or Masterlift X-Air Light Lady, our light, technically advanced hybrid vest, providing a significant volume of air for multi-purpose use, or the Masterlift X-Air Comfort, which offers maximum ergonomics and a very high level of comfort. Finally, Tek divers also have their own stabilizer jacket signed by Beuchat: the Masterlift Tek, a rear envelope stabilizer, coupled to a harness by means of an aluminium backpack.
Except for the Masterlift beginners' jackets, all Beuchat stabs are provided with quick-release ballast pockets. Other pockets and D-rings can be used to store and attach various diving accessories: torches, diving tables, underwater slates etc.