Whether you spearfish only occasionally, as a regular leisure activity or at competition level, maintaining your spearfishing equipment is vital: following the advice of Beuchat specialists will ensure your safety and comfort and a long life for your equipment.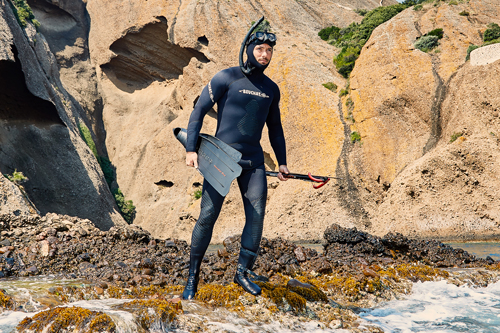 Maintaining your spearfishing suit
The flexibility, water tightness and smoothness of your spearfishing suit are essential to your comfort, safety and performance when freediving. The spearfishing suit protects you against the cold during the hours spent in the water, and ultimately against any small injuries that you may otherwise incur in contact with underwater rock formations, plants and the fish that you catches.
The special features of the spearfishing suit, with its usually open cell neoprene interior and its lined outer shell (either smooth or in camouflage jersey) make it a high performance but also fairly fragile garment. So you need to take special care when putting it on and taking it off, and when you wash it.
Your spearfishing suit, especially if it has an open cell interior for maximum adherence and warmth, should always be put on with the aid of a lubricating agent – a PH neutral shower gel, for example, diluted in water. Some divers also prefer to coat the inside of the suit with talc for improved comfort. The pants of the suit are usually put on first, after the inside has been properly lubricated. Then apply the lubricating agent to the top, shake the garment to spread the product evenly, and put it on with the arms first, followed by the head. Don't clutch the interior with your finger tips and especially not with your finger nails, to avoid tearing the neoprene.
After your dive, pull the spearfishing top over the head like a sweater, and remove the pants by pulling them off inside out, ideally in a single movement.
After each dive, it is advisable to rinse your suit inside out in fresh water, and then hang it on a suitable support or hanger to dry. Note: never let underwater spearfishing apparel dry in direct sunlight, as this may damage the neoprene! Once the top and the pants are dry, turn them back right side out, and store them away from direct sunlight and heat until your next dive.
Spearfishing suits must be cleaned at regular intervals, and especially before being put away for a period when they will not be used in the sea. Underwater spearfishing apparel can be cleaned with an appropriate detergent to eliminate micro-organisms found in the marine environment. The best solution is to wash the suit in a basin or a bathtub with a little detergent in cold or just tepid water, before rinsing it thoroughly with fresh water and then setting it to dry. Always aim to store your suit unfolded.
Certain suits can be machine washed but we do not recommend this; in all cases avoid spin drying!
Zips can be cleaned by means of a toothbrush, and oiled using an appropriate lubricant. Any snags can be repaired with a touch of neoprene repair glue. These tips are also applicable for gloves, hoods, the boots, masks and the snorkel.
Maintaining spearfishing fins
Spearfishing fins have long, rigid blades, specially designed to optimize propulsion when freediving. Beuchat Mundial fins, in carbon, fibreglass, polyamide or polypropylene, are fitted with detachable, and replaceable, blades. In addition to rinsing in fresh water after each dive, it is thus possible to take care of the different parts of the fins individually to extend their life span.
Bi-material or elastomer foot pockets for example can benefit from regular cleaning with a specific detergent, such that used for maintaining the plastic parts of your car. After cleaning, protect your foot pockets by spraying them with a special rubber solution, similar to that used to protect boots from the rain.
Maintaining your speargun and spear shafts
Like all spearfishing equipment, the speargun must be rinsed in fresh water after each dive. Again, be sure to dry your gun away from direct sunlight and store it away from any heat source. The speargun must be regularly disassembled, if possible, to check the integrity of the different parts: barrel, spear, power bands and wishbone. These parts must be maintained regularly, and they can be replaced if necessary.
The tip of the spear must be in perfect condition to guarantee a catch. The barb must be mobile; it should open easily and stay blocked in the slightly open position.
The elastics must be completely smooth: before any use, pull the bands taut to check that they show no sign of porosity or small cuts or tears. When the bands are not used, ideally store them in a cool, dry location away from the light.
Finally, inspect the mechanical parts of the speargun, especially after a long period without use: the parts must show no trace of rust, and the springs must operate perfectly. Lubricate them regularly. Finally, always remember to check that the mechanism operates correctly after prolonged storage.