Fins, a mask and a snorkel tube represent the essential equipment you need for snorkelling. This basic kit can be completed by diving apparel or a suit, depending on the water temperature and sunshine conditions. Let Beuchat help you choose the snorkelling equipment that is most suitable for you.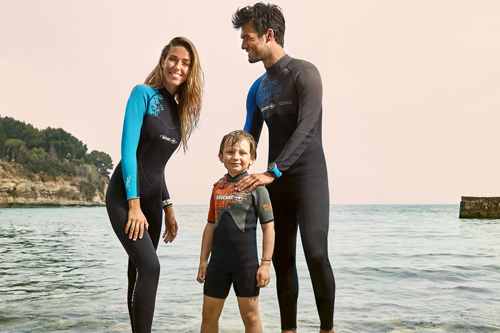 Discover the seabed by snorkelling
Snorkelling is the easiest way for you to enjoy discovering the riches of the underwater world. In both temperate and warm waters, there are so many remarkable underwater landscapes that can be observed easily by swimming on the surface of the water, or by taking short free dives down to 5 meters below the surface. Snorkelling is accessible to everybody who can swim, as it requires no specific training and only basic equipment that is easy to use:
a mask, a snorkel tube, fins and ultimately suitable diving apparel. Available separately or in the form of two-piece (mask/snorkel) or three-piece (mask/snorkel/fins) packs, the different components of our snorkelling packs will allow you to get a close-up view of the submarine world's fauna and flora in total safety.
Choosing a snorkelling mask
The purpose of snorkelling is to be able to observe the wealth of the sea floor just below the surface. To get that perfect view when your head is underwater, you need the right mask.
The width of your field of vision is the first criterion in the choice of a snorkelling mask. Single lens masks offer the widest clear field of vision.
Two-lens masks, like the X-Contact 2 or the X-Contact 2 Mini, can be fitted with optical lenses to correct your sight if necessary, so you won't miss any details of the underwater show.
The comfort and ergonomics of your diving mask are also essential to guarantee an optimum underwater experience. Silicon skirts, fitted to all Beuchat diving masks, are preferable for their flexibility and watertightness. The mask must fit the face naturally, without causing discomfort: that's why you must try it on before you choose. To test both adherence and comfort, position the mask on the face without using the strap to hold it in place, being careful to keep your hair outside of the mask. Then breathe in through the nose: if the mask is the right size the suction effect will keep it in place by itself and it will only fall off when you breathe out.
Choosing a snorkel tube
The snorkel, which is attached to the mask by the pin provided for this purpose, enables you to breathe freely on the surface with your face under the water. It is your indispensable partner for safe, successful snorkelling. The English words "snorkel" or "snorkelling" of course derive from "Schnorchel" the German navy slang term for the air shaft on submarines.
Comfort is the principal criterion in choosing a snorkel, which is why we prefer soft silicon mouthpieces. Traditional curve tube snorkels are very simple to get used to and are perfect for beginners or occasional snorkellers.
For even greater comfort during your swim, opt for a snorkel fitted with a top deflector to limit the entry of water caused by the swell or by waves and a one-way valve, which makes it easier to expel water when you breathe out, especially if you also intend to free dive.
To enjoy safe snorkelling with the family, kit out the youngest with tubes specially designed for children. From 12 years old upwards, adolescents can use adult tubes.
Choosing fins for snorkelling
In snorkelling, the fins are used to help keep you on the surface more easily and swim at your own rhythm without too much effort, so that you can concentrate on the marvels of the under-water world. There are as many types of finas there are underwater activities.
The main criteria of choice are comfort for your foot and propulsion efficiency.
As regards comfort, full-foot fins, fitted with an anatomical foot pocket, are ideal for a proper fit without squeezing the foot. They must be tried on standing, and if you opt to wear a neoprene foot pocket as well, choose one size above your normal shoe size. Adjustable fins are very useful for recreational practice and have the advantage of being able to cover several shoe sizes, which is especially interesting when you have growing children. When you try them on, always in a standing position, the sole should not extend more than 5 cm behind the back of the heel.
As regards efficiency of propulsion, flexible fins facilitate your finstroke, thus enabling you to swim with the minimum effort. They are recommended for beginners and leisure diving. Thanks to Beuchat flexible power jet technology, offering easier, more comfortable and more effective finstrokes, Oceo adjustable fins provide better penetration through the water. Ocean Legend fins enable snorkellers to cover long distances, but they require a greater amplitude of finstroke and are thus suitable for more experienced divers.
For snorkelling, prefer lighter, more flexible full-foot fins, or flexible, adjustable split fins for occasional practice. The low overall dimensions of snorkelling fins mean that you can carry them easily in a sport bag or in your suitcase.
The advantages of Beuchat fins/mask/snorkel packs
Although you can buy your mask, snorkel and fins separately, Beuchat also proposes two money-saving snorkelling packs. Choose between them according to how you mean to swim.
The Oceo pack, with adjustable fins and split blades, a classic snorkel and a single lens mask with a wide field of vision is perfect for novice or occasional snorkellers. It exists in both adult and junior versions.
The PMT X-Voyager pack, with flexible full-foot fins, a snorkel fitted with a deflector and purge valve, and a two-lens mask, is recommended for more experienced snorkelling enthusiasts, especially those who also plan to free dive.
Choosing a suit for snorkelling
Snorkelling is normally practiced in warm water (> 24°C), so in principle wearing diving apparel is not essential. However, to ensure your comfort and safety, in certain conditions it may be a good idea to wear appropriate apparel, such as a top, a shorty or even a one piece suit .
After all, your body expends a lot of energy to maintain your temperature in contact with the water. A 0.5mm neoprene suit from the Tropik range, or a 3mm suit from the Alizé range, will help to conserve heat. The suit should be as close fitting as possible while remaining comfortable.
The reverberation of the sun's rays at the surface of the water is another element to be taken into consideration: during a snorkelling expedition, your skin will be fully exposed to the sun, especially on your back. High protection Beuchat Rashguard anti-sun tops are made of hi-tech fabric to afford both protection against 98% of UV rays (high UV protection index UPF 50+) and comfort (15% more elastic than standard material). The Rashguard series is specially designed to block UV rays, offering guaranteed protection against painful sunburn.
Safety accessories for snorkelling
Wearing beach shoes or neoprene socks is recommended for your protection on the hot sand or the rocks as you set off on your swim and for your comfort if you opt for adjustable fins.
When snorkelling, it is important that you indicate your position by an object floating on the surface, so as to be visible to passing boats. You can use a brightly coloured buoy or a float like the Guardian PVC canvas model. In addition to providing visibility, the float can be used to rest on and to carry accessories, water or food.
Maintaining your snorkelling equipment
Here are a few simple tips to help you keep your snorkelling equipment in perfect condition so you can enjoy it for as long as possible. After each outing at sea, rinse your mask, snorkel, fins and clothing carefully in fresh water. Let them all dry thoroughly and check that they show no sign of damp before putting them away. Always avoid prolonged exposure of your snorkelling equipment to direct sunlight.