Beuchat special liquid seal design for an extra comfortable suit
Front zipper allows diver to dress without assistance and offers greater freedom of movement and easy access to gear during the dive.
6,5mm neoprene Elaskin X 6.6
Fireskin 2 for maximum warmth
Improved water tightness and reinforced protection of seams by liquid seal
Large volume pocket with compact form to hold a mask and other accessories
Beuchat Universal Computer Holder to keep a computer in place
Anatomical cut
Quality design and know-how from Beuchat, the inventor of the modern diving suit
Special exclusive pattern designed in France
New Beuchat cut specially designed to make for a flexible and comfortable suit with liquid PU seams
Pre-formed to fit the curvature of the lower back and crotch for a snug fitting suit
High quality
Large stretch panel in the back for easy undressing.
Beuchat finish
Beuchat quality and craftsmanship embodied in meticulous detailing and finish
Neoprene panels bonded edge-to-edge with liquid PU outer coating and internal/external overlock.
Maximum ease of movement in diving
Zipper position designed to allow maximum ease of movement for the arms during the dive, offering more comfort and less restriction
Front zipper enables divers to dress without assistance, offers more flexibility and avoids back discomfort
Easy access and handling for your own gear and that of your partne
Watertight flexible plastic arm-to-arm front TiZiP fastener makes for easier dressing/undressing and greater comfort during the dive.
Extra comfort
Ultra-soft Elaskin neoprene for improved comfort and greater ease of movement
Thinner seamless single-piece face seals (-1 mm) for optimum comfort
Edged cuffs
Easy Wave System at ankles and wrists
High thermal protection
Tizip dry plastic zipper
Enhanced water tightness with liquid seal
Easy Wave System inner seals for the forearms and shins with smooth fitting cuffs that seat themselves automatically during dressing
360° face seal
Fireskin 2 for maximum warmth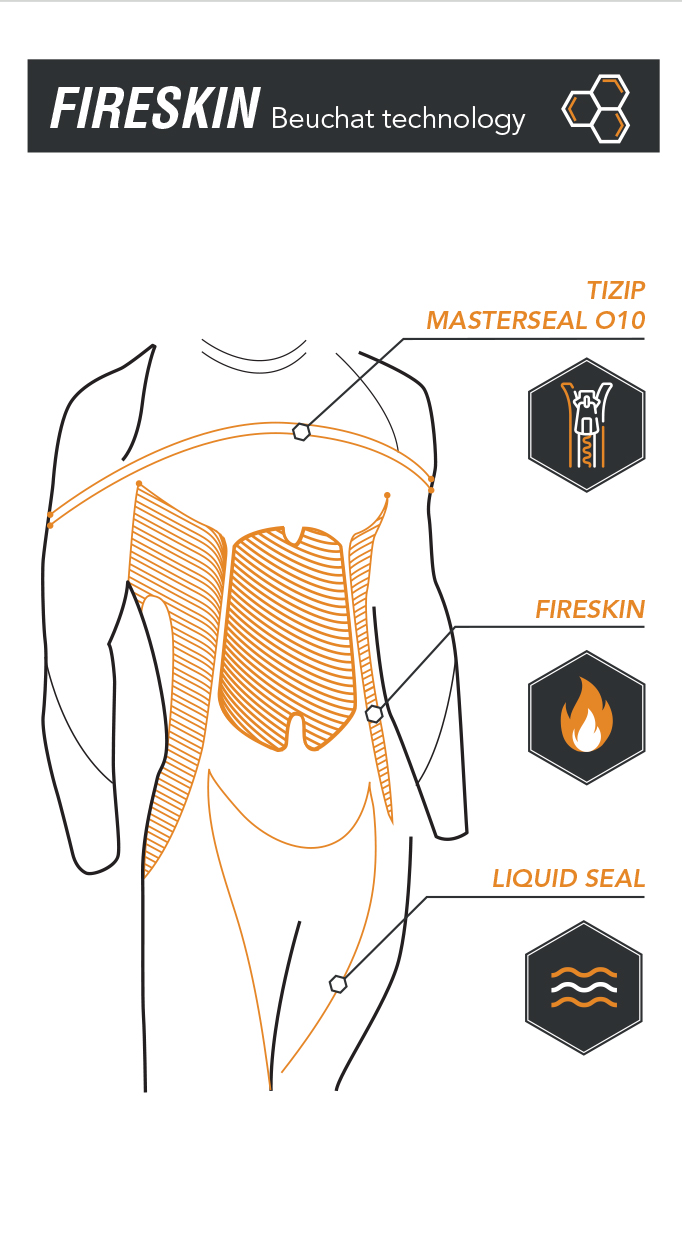 Toughness, durability
Improved protection and water tightness thanks to liquid seals
Supratex reinforcements at knees and elbows for longer life and more flexibility
One-piece face seal for improved durability
Neoprene flap protecting the watertight zip

Hood Holder System (Beuchat original)
Hood Holder System with scratch grip on pocket: the diver can attach the hood to the suit when not wearing it to avoid losing or forgetting it, or having to hold it in one hand

Simple, watertight HPS (Hood Positioning System)
Fixes the hood to the suit safely and easily thanks to scratch fasteners
Collar with baffle at the V of the collar to hold the hood flap
This system offers the water tightness of a double collar with the simplicity of a single collar

Compact large capacity pocket
Ingenious half-gusset system offers large stowage capacity within a compact pocket shape to avoid impacting hydrodynamics or comfort
Large easy-access pocket (to hold a mask and other accessories) with scratch fastener and inner D-ring to attach and secure equipment
Drainage eyelets in the pocket

Beuchat Universal Computer Holder (Beuchat original)
Beuchat Universal Computer Holder to keep a computer in place on right or left