The Atoll gear designed by Beuchat, who invented the isothermal dive suit, is a striking new product that is sure to appeal to all divers looking for a high performance suit offering excellent value for money.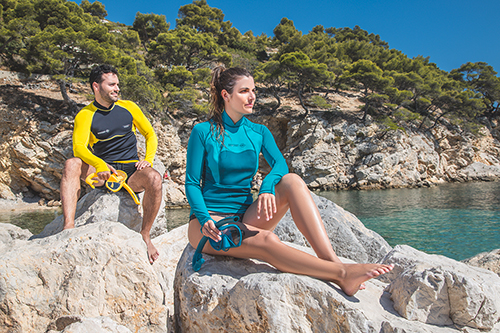 Top quality design and expertise from Beuchat, the inventor of the modern diving suit.
Special exclusive pattern designed in France.
Pre-formed anatomical cut.
Neoprene and elastane UV50+, great ease of dressing and undressing.
Colors matched with Maxlux S masks, Spy snorkel and Play fins.
High quality Beuchat finish 
Beuchat quality and craftsmanship embodied in meticulous detailing and finish.
Extra comfort and more freedom of movement 
Ultrastretch neoprene for improved comfort.
Cut designed to offer extra flexibility.
Pre-formed anatomical cut.
Pre-formed for greater ease of movement.
Zipless comfort collar