Diving apparel serves to protect divers from the cold. Hypothermia is one of the principal dangers under water, and it can occur even in warm waters (>24°C); in aquatic environments, we lose more heat faster than in the air. The temperature of the sea at the diving site is therefore the first criterion of choice.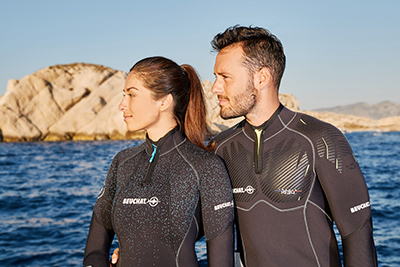 Diving wetsuits in neoprene enclose a thin layer of water between the body and the suit: warmed by contact with the body, this layer enables the diver to maintain his or her temperature. Available from Beuchat in 3mm thick for warm water diving, and 5 mm and 7 mm thick for diving in temperate or cold water, these suits should be chosen to fit closely for better protection, without however being too tight.
Wetsuits exist in shorty and one-piece versions for warm water, and two-piece and one-piece versions, with or without hood, for temperate or cold waters, supplemented if necessary by an under-garment with or without hood. The insulation of the head is especially important: even in temperate waters, you can lose up to 30% of your body heat through the head!
Semi-dry suits, such as the Semi-dry X-Trem ou la Med C-Zip, offer reinforced protection against the cold by limiting the entry of water. These are the suits preferred by Mediterranean divers, especially in Italy and Spain. They are recommended for deep or multiple dives.
Watertight drysuits, like the l'Abyss Dry or l'Iceberg Pro Dry, protect the body of the diver totally from contact with the water. Ideal for long dives in cold water or at great depths, these suits are most often reserved for experienced divers as their use requires certification and special training.
Special gloves and boots help ensure the thermal insulation and protection of the diver.